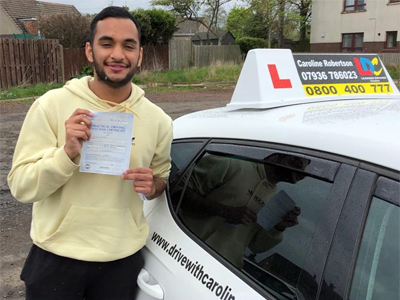 Uzair M
Delighted to pass!
Caroline was very patient and helpful throughout all my lessons and catered all lessons to my needs.
She is extremely skilled and very knowledgeable. Overall very professional and I would highly recommend Caroline for all levels of learning.
Paul D
You're never too old to learn!
I was very nervous at starting driving lessons (aged 59!) but Caroline was a wonderfully calm, reassuring and patient Instructor who put me at ease and carefully tutored me each week. I would highly recommend her to anyone who is apprehensive about starting to learn to drive at any age.
Catherine Jones
New Found Freedom!
Caroline was a wonderful driving instructor. I already had my licence but hadn't driven in several years so was lacking in experience and confidence. She has a calm, supportive manner and an excellent knowledge of all aspects of driving, including the local area. After several sessions with her I felt much more confident and competent driving and started to enjoy the lessons. She's really opened up many opportunities to me as now I'm able to drive myself and my toddler around. Thank you so much Caroline! The LDC System being pupil-led meant we could focus on what I needed, and the videos and manual made it easy to look over the lesson content in advance. Would thoroughly recommend to other learners.